2007 Nobunaga festival
Date: June 2, 2007(Sat)~ June 3, 2007(Sun)
Place: Honnoji Temple (In front of Kyoto City Office)
June 2 is Honnoji Incident,
and the anniversary of Nobunaga's death.
It is connected at the anniversary of one's death,
and a lot of event heights.
We will wait for coming of everybody.
---
2006 Nobunaga festival
It was held in the Honnoji temple on 3rd and 4th in June, 2006.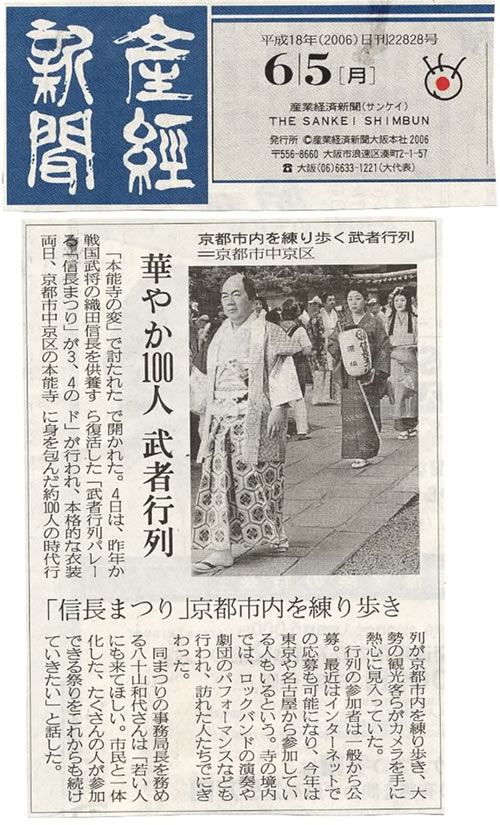 ---
Assumed the position of the Nobunaga festival execution committee secretary-general in 2005.
It assumed the position of "Nobunaga festival" execution committee secretary-general who had been opened in the Honnoji temple on 11th and 12th in June, 2005.
It proposed an original bustle creation plan besides the warrior procession was revived, it was supported by a lot of people, and it was possible to make the festival succeed this year when sent the whole country the charm of Kyoto.
Outline of festival
Civic group "Commending association" is Honnoji temple in Kyoto Prefecture that is the opening at about the anniversary of one's death festival because it holds a service of Nobunaga Oda who is the general who was killed by "Honnoji Incident" every year.